We have prepared three official hotels, offering a special rate to conference delegates from the night of 24th to 26th. However, as the rooms are limited, we will allocate rooms on "first-come-first-served" basis. When there are no more rooms available at the official hotels, you will be asked to look for and make your own reservations elsewhere. So, we recommend you submit swiftly, your accommodation request as stated below.
We will only accept accommodation request from those have completed registration for UCEC2017 from HERE.
*Transport will be arranged back to the three hotels following the Conference Dinner on Monday 25 September.

* For your first contact to the hotel, please email the person in charge, not by your call. They will contact you accordingly by either email or call.
Rhino Hotel Kyoto
Single Room per night: JPY7,200
Twin Room per night: JPY15,760 (for 2persons)
*Extra charge for breakfast: JPY1,300
- All Tax included
Booking Form Download HERE
Rhino Hotel Kyoto
Cancellation Charge Policy:
No-show: 100%
---
Ark Hotel Kyoto
Single Room per night: JPY6,500
Twin Room per night: JPY10,000 (for 2persons)
*Extra charge for breakfast: JPY1,425
- All Tax included
Booking Form Download HERE
Ark Hotel Kyoto
Cancellation Charge Policy:
One day before arrival: 20%
On the date of arrival: 80%
No-show: 100%

---
Karaksa Hotel Kyoto I
(sold out)
Twin Room per night: JPY14,040 (for 2persons, breakfast included)
Twin Room per night: JPY17,280 (for 1person, breakfast included)
- All Tax included
For more details, Click HERE

Cancellation Charge Policy:
One day before arrival: 20%
On the date of arrival: 80%
No-show: 100%

Access
Rhino Hotel Kyoto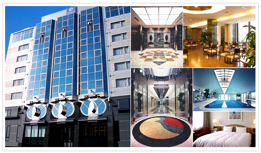 Ark Hotel Kyoto
Karaksa Hotel Kyoto I